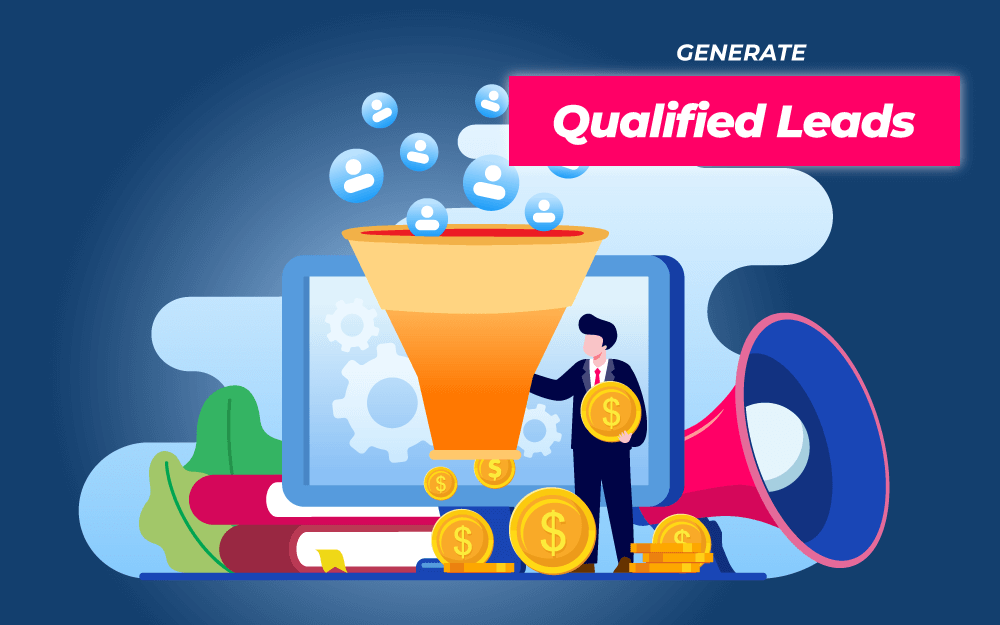 Leads are oxygen to businesses. No leads, no chance for survival.
But by relentlessly pursuing online lead generation are we letting ourselves off the hook too easily? Focus only on lead quantity with a disregard for lead quality and youmight sell yourself short.
Eventually, realization sets in: a funnel full of lookie-loos and tire-kickers has little value. It becomes incumbent on marketers to take on the challenge of producing sales-qualified leads.
Want a sizable list of lead-generation strategies? Check out that post.
The content of this article is originally published on How to Generate Qualified Leads that Generate Sales by Barry Feldman.
Marketing Qualified Leads (MQL) vs. Sales Qualified Leads (SQL)
It's important to understand the difference between marketing qualified leads (MQL) and sales qualified leads (SQL).
Marketing Qualified Leads (MQL) are the leads marketing programs collect and qualify for sales follow-up.
Sales Qualified Leads (SQL)are higher quality leads, determined by a vetting process of some sort. They present a greater chance to create a sale.
In a perfect world, MQLs convert to high quality SQLs. But it's not a perfect world. A website visitor that goes no further than handing over an email address usually isn't a red-hot buying prospect.
Let's examine ways marketing and sales teams can work together to generate more sales-ready online leads.
Ways to Generate Sales Qualified Leads
Understand the need for lead scoring
Sales and marketing teams must rally around lead scoring together. Lead scoring ranks the sales-readiness of a lead, based on specific criteria or data points traced to:
Demographic/firmographic information
Online behavior
Engagement
Obviously, you first pursue the leads that score highest.
This infographic from SnapApp and RingLead gives a brief overview of how to get started generating a lead scoring program.
Most marketers don't abide by a lead-scoring system. They treat most leads equally and nurture them (or not) in the same way. Consequently, the efficiency and the effectiveness of the sales teams suffer.
Achieve sales and marketing alignment
As is often the case, the hardest part of lead scoring is getting started. Doing so requires sales and marketing alignment. The departments must work together to:
Establish specific buyer personas
Define what constitutes a sales-ready lead
Create a lead-scoring methodology and vernacular
In its Definitive Guide to Lead Scoring, Marketo recommends marketers get together with their sales team to gather data indicating the buyers' interest or sales-readiness.
This includes things like:
Past deals and current opportunities
Online activities — pages visited, referring sources, etc.
Sales logs that indicate past interactions with sales and the activities and campaigns that touched the prospect before the purchase
Organizations using lead scoring experience a 77% increase in lead generation ROI, according to SharpSpring.
Deploy marketing automation
Don't dismiss leads that fall short of SQL levels. Nurture them.
Lead nurturing is the process of facilitating the buyer journey, helping leads progress from stranger to customer by prompting them toward the buying decision with helpful content. Invariably, lead nurturing depends on drip email campaigns triggered by the actions subscribers take.
Enter marketing automation. Marketing automation systems facilitate a variety of performance marketing processes — including lead scoring. And, one undeniable strength of these platforms is automating follow-up emails.
The leading marketing automation systems include (in no particular order):
ActiveCampaign
Pardot
Marketo
HubSpot
Mailchimp
Drip
And many more.
Check out a full list of marketing automation tools and platforms from Neil Patel.
Apply segmentation and personalization
The conversion rates you aim to achieve kick into higher gear when your lead nurturing features segmentation and personalization.
Rather than simply blasting emails to every lead you've captured, lead nurturing programs apply specific criteria to create targeted email lists that receive more relevant content and offers.
Personalization takes this idea a step further. Lead data enables message and content customization to produce more targeted one-to-one messaging, based on the unique needs of an individual prospect, as indicated by time, place, and whatever additional and relevant information the underlying platforms have gathered.
Put the power of forms to work
Though it may sound mind-numbingly obvious, an uber-powerful factor to increase qualified leads is to, well, qualify the leads. In other words, you aim to learn more about the potential needs of each lead by gathering information via forms that go beyond a name and email address.
Ways to do so include:
Multi-step forms — Research indicates that fewer form fields result in more conversion. Companies that have experimented with multi-step forms, however, have enjoyed great results. With this approach, you first gather essential contact information and then follow-up immediately with a second (or maybe even third) step requiring additional input.This example from Uber clearly indicates to the visitor that there are additional steps to take after filling out the initial form.
Progressive profile forms — Some marketing automation tools feature smart fields that spare return visitors from having to resubmit information. You can put progressive profiling in place too, allowing you to add new fields to the forms' return visitors experience, so over time, you gather more lead intelligence.This step-by-step flow from gatedcontent.com shows how your form could progress for a returning visitor.
Mad Lib forms — Here, the same questions presented in a traditional form are 'Mad Lib' style. This is a narrative format that presents input fields to people as blanks (or pre-formatted choices) within sentences. Check out this example from huffduffer:
Qualifying questions — Yes, adding questions to your forms reduces responses, but if your leads are too often low quality, this strategy makes sense. A question around budget or the decision-making time frame can produce meaningful qualifiers for the sales team.For example, this form from Quicken Loans asks a qualifying questions regarding the visitor's credit profile:
Try other forms of interaction
Interactive content and its power to engage potential buyers is a popular topic. Interactive content including quizzes, assessments, directed buying guides, calculators and surveys, subtlety entices users to provide insights into their needs.
As the user 'plays along' he or she answers the questions that help you assess their needs and satisfy them accordingly.
Run ads for the full funnel
Are your lead-generation strategies entirely about raising brand awareness?
Brands today often dial-back (or eliminate) 'hard sell' ads that feature products. Instead, they focus on building awareness with content marketing. While it is easy to justify budgeting ad spend on feeding the top of the funnel, completely forgoing the middle and bottom of the funnel can hit sales.
For example, Samsung Life used an interactive insurance calculator to engage potential consumers in the middle of the funnel.
In this example, University of the People takes a more full-funnel approach. First, they engage people at the top of the funnel with earned media, and then retarget them a landing page that captures leads interested in their class offerings.
Finally, Otty focuses mostly on the bottom of the funnel, using retargeting tactics to generate as many sales of their mattress product as possible.
Paid-ad programs, be they served via search, social or across the open web in the form of native, sponsored and display advertising, address prospects in all stages of the buying cycle — from the top to the bottom of the funnel.
Create content for all stages of the buying cycle
The Ultimate Guide to Lead Generation presents a diagram from DigitalMarketer that does a nice job depicting 'The Content Lifecycle' as a three-part funnel.
Importantly, in each part (top, middle, and bottom of the funnel), various examples of content formats are plugged in where they fit the bill.
The challenge when it comes to improving lead quality, is to examine the buying cycle from top to bottom and develop a content-marketing strategy that addresses the potential buyer's questions at every possible stage. Ensure you can say yes to questions such as:
Do we offer the educational resources and tools interested prospects in the consideration stage will find useful?
Do we have the types of case studies, courses, demonstrations and product comparisons prospects required at the decision stage?
Do the landing pages that offer specific content assets make it crystal clear who the content is for and what the benefit of consuming it will be?
Examine your search strategy
You're likely to generate low-conversion traffic if your search strategy — for organic results and ads — focuses on generic one and two-word phrases.
Revisit your strategy to uncover long-tail keywords. Longer, more specific search phrases tend to align with increased buyer intent and will, therefore, drive traffic with a higher propensity to convert to your site .
Circle back with performance reviews
Remember to review your marketing and sales metrics at regular intervals to determine how your campaigns are performing and identify weak spots that call for making strategic or creative changes. It's helpful to create a dashboard reflecting the stages of the buying cycle and examining specific conversion metrics.
Use Google Analytics and additional lead-generation tools to establish specific lead goals and examine conversion paths. The more information you have regarding sources of traffic, keywords, popular pages and other elements, the more equipped you'll be to enhance future lead-generation campaigns.
Main takeaways
"How do I generate more leads?" is really the marketing question today. As you generate more and more leads, it's important to make sure that you're maximizing for quality over quantity.
You can do so by…
Defining your MQLs and SQLs
Building a lead scoring model
Deploying marketing automation
Segmenting your lead lists and personalizing your nurture campaigns
Getting creative with forms and interactive content
Reaching potential leads at every stage of the funnel with the right paid strategy, content and search strategy.
Your strategy for generating leads and qualifying the good from the bad will change depending on the vertical you're operating in. Here are tips on generating leads for B2B brands, real estate, financial advisors, small business, insurance verticals and mortgage.